Thrifting is all about finding something you love. I know everyone is a little sick of the Pottery Barn perfection. A classic style is always one that looks like it was collected over time with layers and depth. You can find unique pieces that will bring character into your home by going to thrift stores, flea markets, antique stores, etc.
I took a few pictures the last time I went through my favorite thrift store. The seats on these bamboo chairs could very easily be reupholstered on your own. There is no piping and all you would need is a staple gun, possibly some fresh batting and your favorite fabric. The cane backing is awesome. The chairs would look great painted black, white, any coordinating or contrasting color to go with your fabric.


I LOVE this pair of blue chairs.
They would be adorable reupholstered with cute toss pillows for a baby's room. Place a side table in between and a soft round ottoman at the feet on a plush rug.


This eagle lamp has so much character that it was hard to leave it! It would look great with a fresh coat of spray paint and a new shade in a library or den on a stack of books.

This little sofa is darling. I love this lines of the arms. It would be charming reupholstered for a sunroom or living room. An upholsterer can even cut new pillows/cushions if they are worn out. The cost with fabric and upholstery can cost about the same as a low end sofa but you have a completely custom piece that is fabulous. Define your space with the colors and fabrics that you like - not the manufacturer.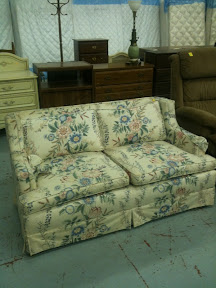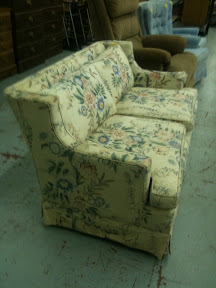 I recently picked up a solid brass plate to add a layer to my painted chest that everyone seems to like. :) I'll probably use it to display jewelry or candles. I cleaned it up with white vinegar, salt and a soft rag. You can see in this picture the line on the upper right corner where I was cleaning. It definitely needed some love but that is often the case with thrift store gems...they are diamonds in the rough!

Here it is all polished up!
The key is to find a unique piece that you will use and love in your home. Don't be afraid to mix textures, patterns, layers and styles. Happy thrifting!
XOXO