For the past year our family has been in the process of cleaning out my grandparents' home. We went to help with the process this weekend and grabbed a few great things that had to come home with us.

This rug is HUGE! And I love it. We are still in need of rugs in most of our rooms so it was a welcome addition.

I have no idea what you would call this but it's a bottle with a carved leather casing. I need to find a bar cart to set-up with this little guy.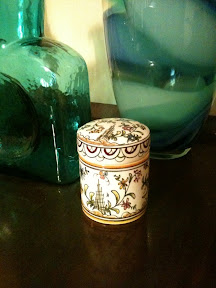 This cute little ceramic container will easily find a new home.

This ecclectic elephant bookshelf is really unique and will look great when filled with books.
A vintage luggage rack will find a place in our guest bedroom.

And this side table. I haven't decided what to do with it yet but the lovely daisies and flowers will be getting a makeover. We had a busy weekend with traveling and packing up, but happy to come home with a few treasures!
XOXO

- Posted using BlogPress from my iPhone