During our trip to Germany, hubs had to do some testing at a plant outside of one of the most charming cities I have ever been to - Landshut, Germany. It's filled with cobblestone streets, colorful shops, restaurants, cafes, churches and a palace. The town used to be the capital of Bavaria and, therefore, a rather affluent place.
We had amazingly beautiful weather and we were told it was the first sunny and warm weather that Germany has had so far this year. We stayed at the
Goldene Sonne
which has a wonderful breakfast and is right in the center of town. How cute is this place? All of the buildings looked like this throughout the town.
Unfortunately, our bags did not make it to the States but hopefully we will get them soon! Of course, both of our cameras are in the suitcase but I did take a couple of pictures on my phone when we were checking out because I was in love with the light fixtures.

Pretty gorgeous chandys and architecture, right?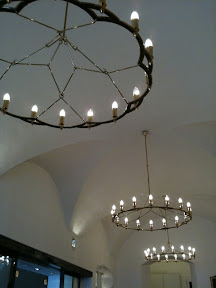 More soon....
XOXO

- Posted using BlogPress from my iPhone