Hubs told me that I have a problem with dressers and he might be right. I picked up this guy a couple of months ago for 20 bucks at a thrift store. Somehow my "before shot" got deleted but it was white and had different hardware. I thoroughly cleaned it with soap and water, applied wood filler in the few scratched areas, used leftover primer and paint from my last
project
and had this baby painted in no time flat! Seriously, I bet it took about an hour minus drying time. Since the hardware could be removed quickly and easily I didn't have anything to paint around and even used a large roller on most of it so the painting was a breeze.
I purchased some round brass knobs a while back from
Ballacor
because they were on sale for $2/piece; I didn't have a project in mind for them but knew they would come in handy at some point. Unfortunately, this dresser had 12 knobs and I only had 8 round pulls. I just ordered the extra four from
Handlesets
because Ballacor has a minimum purchase of 12 now! Notice the bottom drawer is without pulls but I still had to share.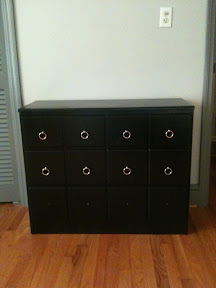 And here is a close-up: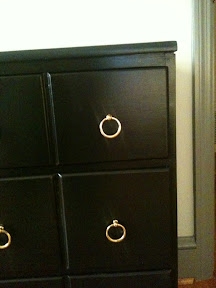 How cute is it? I love it. I can't wait to get it styled with some artwork, a lamp and who knows what else!

XOXO