Remember this inspiration shot from Martha Stewart?
I love it and had to paint something similar. I thought you might enjoy seeing how my painting evolved. It started off here.

At this stage (below) I realized it had become a little too cool and dark on me.
but luckily, art is an evolving and building process
and here it is right before framing.

Sorry for the iphone pics but they aren't too bad. It will be ready to pick up on Thursday with the new frame and I'll post a new pic for ya!

I got done early enough to start a new project last week. So check out my thrift store painting that I found last summer (below). It is actually a very old print on canvas and a quality wood frame - score! Once I made sure that it was not an original Claude Monet and verified that retirement is not going to happen yet...
I removed the canvas from the frame....If you look closely at the edges you can see how much this print had faded over the years.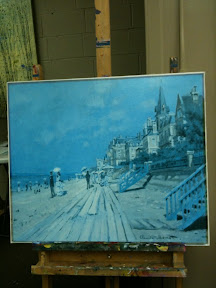 With this as my inspiration from a room designed by Kate Schintzius in Design Sponge via
Sketch42
.
(Sidebar - I'm loving this glossy dark blue wall!!)
I don't have a final product YET but it's coming - get pumped.
XOXO

- Posted using BlogPress from my iPhone

Location:
Abstract