I'm waiting at the social security office to get my name officially changed (we got married in December). Not fun. So I need to blog about something that is fun like these five lamp shades I grabbed at a thrift store for $1 a piece.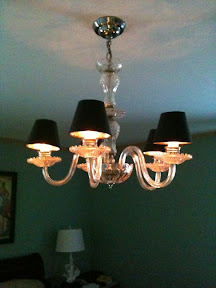 I hijacked this chandelier from my dining room and put it in our bedroom when we first moved in. I removed all of the dangly crystals that made it look too fancy and dated. For a while I've thought black shades would look nice and BAM they appeared. Don't you love it when that happens?
I'll post a better picture when I finally finish everything that needs to be done in here. What do you think?
Xoxo
- Posted using BlogPress from my iPhone