Who loves pine cones and old light fixtures?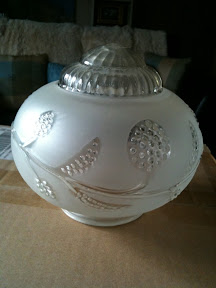 Not me! Our house had two of these fixtures lighting our hallway to the bedrooms. They were too small, gave off poor lighting and boring.

Hubs and I were in Home Depot a couple of weeks ago to get some light bulbs and weed killer when I happened to walk by these that were at a pretty reasonable price...

A spontaneous purchase was made and now my hallway lights look like this thanks to a quick surprise installation by hubs before I got home last night! Cheers for sweet hubbys.


I love them and they give off so much more light! They are larger than what was there before and do a great job filling up the space appropriately. I love the curved glass and it's bubbled texture which gives it a lot of character.

Whose glad it's finally Friday?? Definitely this girl. We received our luggage yesterday that had been delayed since we got home on Sunday. I was so relieved to get things like my make-up, camera and souvenirs. Not so relieved about the mountain of laundry but that's ok; it's almost the weekend.

XOXO

- Posted using BlogPress from my iPhone